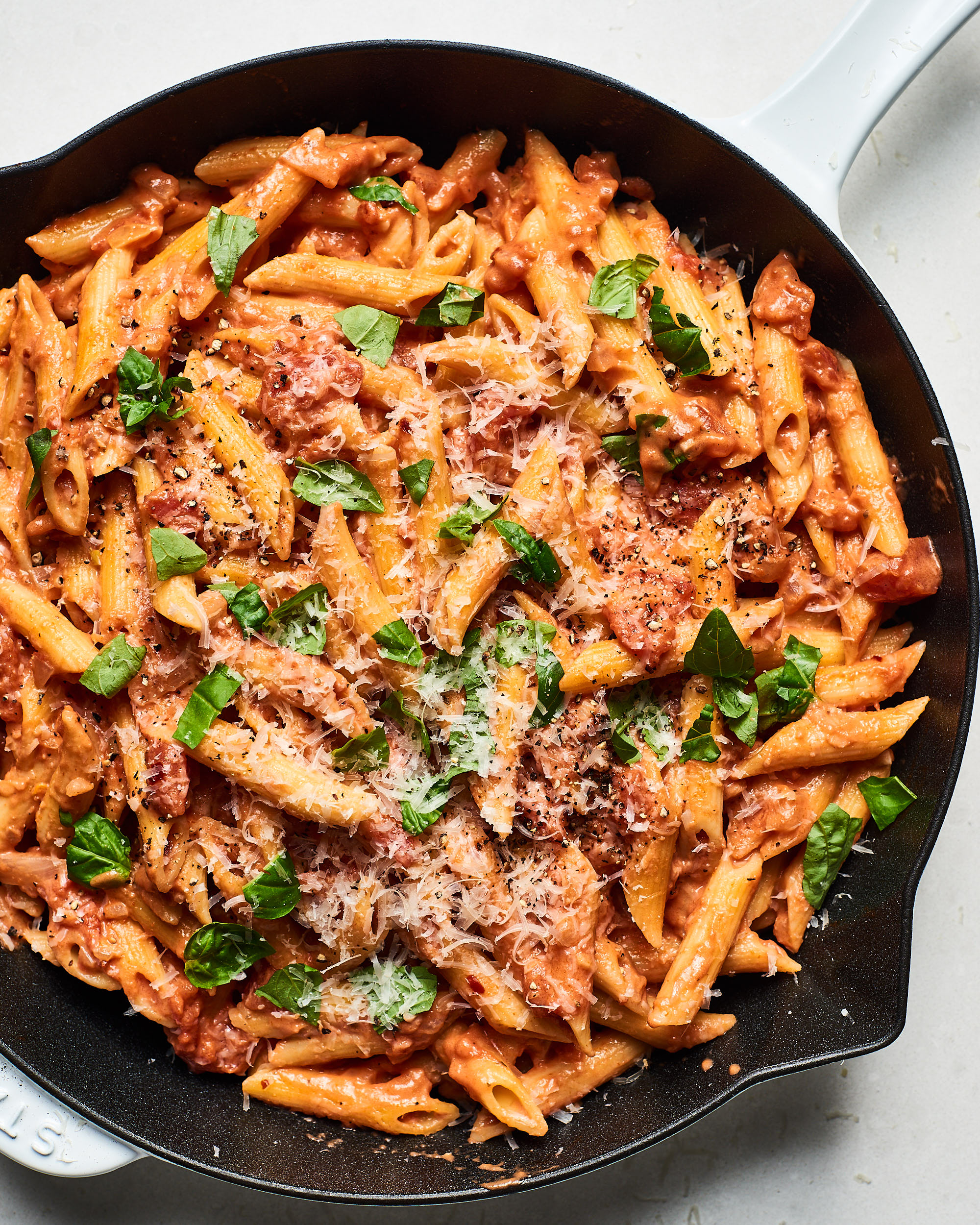 Generations Gin Penne Pasta
It's true we all love a great pasta dish so adding Gin to your pasta sauce can only lead to something delicious. Get creative in the kitchen this week with this delicious Gin Penne Pasta dish. It's super easy to make and the whole family will be begging for more!
Prep Time

10

Minutes

Serves

4

People
Ingredients
500g penne pasta, cooked al dente

1/2 onion, diced

2 cloves garlic, minced

1/4 cup olive oil

1/2 teaspoon red chilli flakes

1 can diced tomatoes

1 cup Generations London Dry Gin

1/2 cup cream

1/2 cup Parmesan cheese, grated

1/4 cup fresh basil, minced

Salt and pepper
Instructions
In a medium pot, add olive oil, onions, garlic, and red chili flakes and begin cooking over medium heat. Cook for 5 minutes until onions are soft and fragrant. Be careful not to brown the onions and garlic. You just want them soft.

Add in tomatoes and cook for a few minutes.

Remove sauce from heat and blend with a stick blender, or normal blender until sauce is fairly smooth. It doesn't have to be perfect.

Add Generations London Dry Gin and sugar to the sauce and bring to a simmer. Simmer for 20 minutes or so until the alcohol cooks off from the gin. You'll know when it's ready because it won't smell like strong alcohol.

Stir in cream, Parmesan cheese, and basil and season with salt and pepper. Keep warm.

Cook pasta according to package. Make sure to pull it when it is al dente or has a slight bite to it still.

Drain pasta well and add directly to the sauce. Stir together.

Serve garnished with Parmesan cheese and fresh basil!