Barrel Aging Gin is something we are very familiar with. When you select the right Gin and age it in the right barrel – the results can be outstanding – as we saw when our Barrel Aged Gin took out the Gin of the Year in the London Spirits Competition in 2020.
Barrel Aged Shiraz Gin was something we just had to experiment with. It was the right Gin, but what was the right barrel? Find out just how our Barrel Aged Shiraz Gin came to be.


Our Barrel Aged Shiraz Gin starts in the still, with our original London dry gin, Generations Gin. Distilled with 12 botanicals, it produces a smooth, well-balanced Gin with a generous mouthfeel. Our Generations Gin is then used to soak the world-renowned Barossa Shiraz grapes.

In 2019, our second year producing our award-winning Shiraz Gin, we macerated that year's vintage of Barossa Shiraz Grapes in our Generations Gin allowing the beautiful deep colour and rich flavours to infuse and develop into something special.

After the maceration process, we placed the grapes in a basket press and gently squeezed everything together to collect as much from the grapes as possible. The resulting 2019 Shiraz Gin had intense layers of juicy dark fruits, hints of chocolate with a silky mouthfeel and a long finish.

A resized Bourbon Barrel was then selected to house the Shiraz Gin, looking to harness some of those wonderful characteristics of American Oak barrels. After filling, the barrel was tucked away in the Distillery and left to do its thing for almost four years.

They say good things come to those who wait, and our Barrel Aged Shiraz Gin is no exception. After some very close monitoring over almost four years, our Shiraz Gin had aged to perfection and was ready to be bottled.

Reminiscent of a Fortified Tawny with rich jammy flavours, overtones of stewed fruit, sultana and Christmas spices, our Barrel Aged Shiraz Gin is one-of-a-kind. It's also incredibly rare with only 130 bottles (oh, don't we wish we had the foresight to make more at the time!), it's a collectors bottle that will be at home in the cellar as it is on the sideboard. Shop the limited edition release here.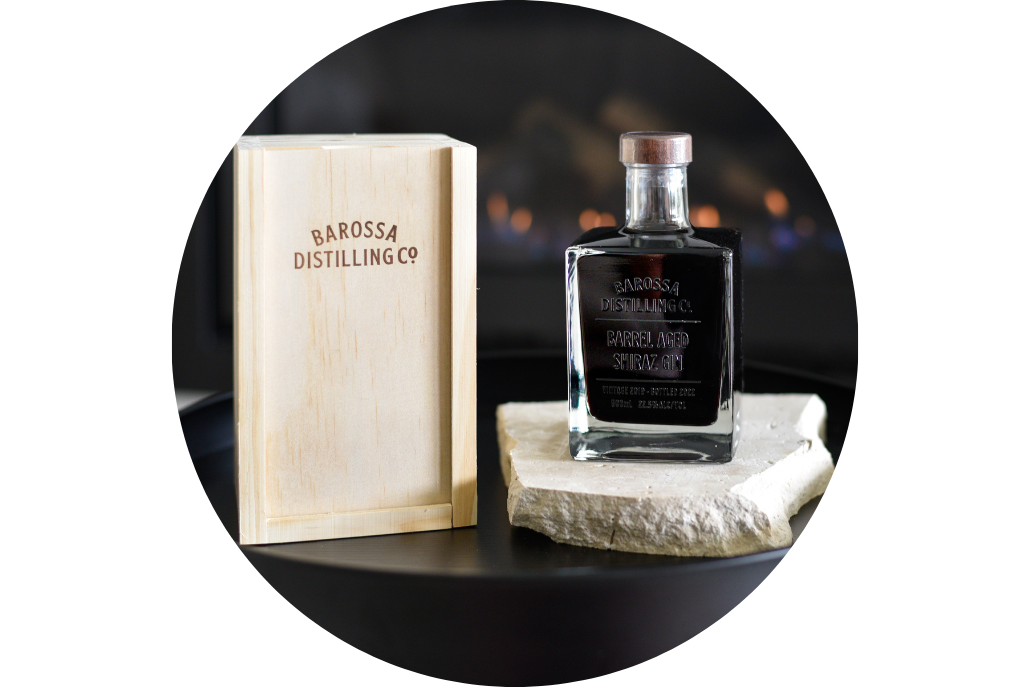 If you would like to experience our Barrel Aged Shiraz Gin first-hand, our Distillery and Tasting Room is located at the heart of the Barossa Valley.
We pride ourselves on providing a deliciously memorable experience with a range of tasting flights, cocktails and dining options available. And if you can't make it to the Barossa, you're in luck! All our gins are available through our online shop, so you can enjoy them from the comfort of your own home.