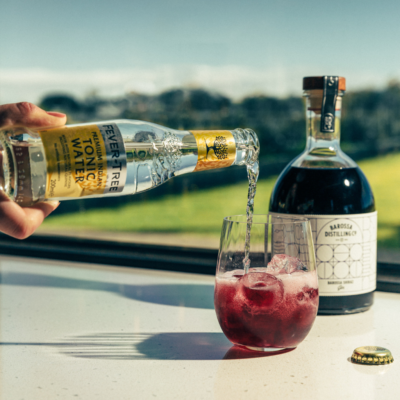 BAROSSA SHIRAZ GIN & TONIC
Pair Shiraz Gin with a lemon tonic for the perfect Barossa Shiraz Gin & Tonic!
Barossa Shiraz Gin is produced just once a year from the same super-intense Shiraz grapes that are revered across the globe. The bitterness and acidity of the lemon tonic cuts through the sugar and spice of the gin perfectly to make it super refreshing. Garnished with a dehydrated lemon for some extra zest.
Ingredients
30

ml

Barossa Shiraz Gin

Fever-Tree Lemon Tonic

Garnish with a dehydrated lemon.
Instructions
Pour Barossa Shiraz Gin into your glass, fill with ice, top with Lemon Tonic to taste. We believe less is more. Too much tonic and you can overpower the flavours of the Shiraz Gin.

Stir and enjoy!