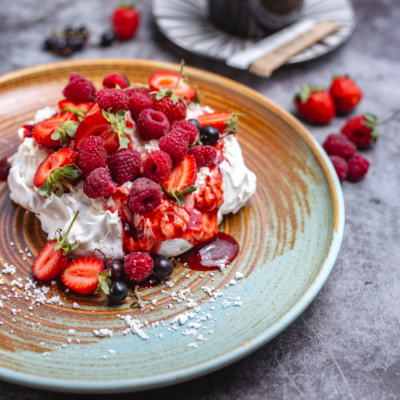 MERINGUE WITH GIN SOAKED BERRIES
There's nothing better than eating those gin-soaked strawberries when you finish your Budburst G+T! Add some meringue and you have a classic Aussie dessert.
Ingredients
100

g

egg whites rom about 3 eggs

1

tablespoon

white vinegar

200

g

caster sugar plus extra 2 tablespoons

500

g

mixed berries, sliced if large

1/4

cup

60ml Barossa Distilling Budburst Gin

1

tablespoon

lemon zest

2

tablespoons

lemon juice

2

teaspoons

balsamic glaze

1/2

vanilla bean, split, seeds scraped

Whipped cream or ice cream to serve. Try a Raspberry ripple ice cream for a real fruity finish!
Instructions
Preheat oven to 110°C and line a tray with baking paper. Place egg whites, vinegar, 200g sugar and a pinch of salt in a pan over low heat. Stir for 1-2 minutes or until sugar dissolves (use a sugar thermometer to ensure heat doesn't rise above 37°C). Whisk using electric beaters until stiff and glossy. Spread meringue on tray as one large meringue or smaller individual portions, then bake for 1 1/2 hours or until crisp.

Meanwhile, place strawberries, Budburst Gin, zest and juice, balsamic glaze, vanilla pod and seeds, remaining 2 tablespoons sugar and a pinch of freshly ground black pepper in a bowl. Toss gently, then chill for 30 minutes to macerate.

To serve, break up meringue and place on a platter or serve individual portions. Top with cream or ice cream and spoon over berries and soaking liquid.