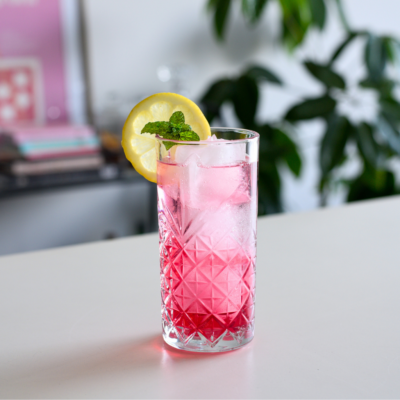 DreamHouse Daisy Cocktail
Sour, citrusy & a little sweet, this Gin Daisy Cocktail is an incredibly easy-drinking cocktail; kind of like a grownup lemonade!
The bright, tart and delicate flavours complement that of our Budburst Gin to create a beautifully balanced fizzy cocktail.
Ingredients
45

mls

Budburst Gin

15

mls

Orange Liqueur

15

mls

Pomegranate Syrup/Grenadine

20

mls

Lemon Juice

Soda Water

Sprig of mint and a lemon wheel to garnish
Instructions
First, add Budburst Gin, Orange Liqueur, Pomegranate Syrup and Lemon Juice to a shaker filled with ice.

Then shake well until the outside of the shaker feels cold.

Strain into a glass filled with ice

Lastly, garnish with a lemon wheel and a sprig of mint and enjoy!