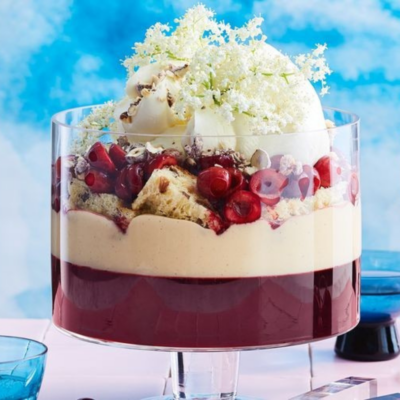 MATT PRESTON'S CHERRY & GIN TRIFLE
Unleash your inner Master Chef with this gin trifle!
If you are looking for something to channel your creative energy into, why not make a trifle? This British dessert made up of sponge cake, custard, and jelly is sure to keep you busy (and full!).
Create this using our Generations Gin for a deliciously botanical boozy dessert.
Ingredients
1.5

kg

pitted cherries fresh or frozen, plus 500g fresh, halved and pitted

460

g

caster sugar

2

tsp

coriander seeds toasted, lightly crushed

1

tsp

juniper berries lightly crushed

12

20g gelatine leaves

1

cup

250ml Generations Gin, plus 2 tbs extra

Juice of 2 lemons strained

2

cups

500ml full-cream milk

2

cups

500ml thickened cream

1

tsp

vanilla extract

½

tsp

ground mixed spice

10

egg yolks

¼

cup

35g cornflour

½

cup

70g hazelnuts

1

cup

320g lemon curd

450

g

panettone crusts removed, sliced into 1cm-thick slices

½

cup

125ml elderflower cordial

2

cups

500ml double cream

Elderflowers to serve (optional)
Instructions
Place cherries, 200g sugar, coriander seeds, juniper berries and 600ml water in a pan. Bring to the boil, stirring to dissolve sugar, then reduce heat and simmer for 15 minutes. Meanwhile, soak gelatine in cold water to soften. Pass cherry mixture through a fine sieve into a large jug, gently pressing cherries to release juice (discard solids). Measure 1 litre (4 cups) of liquid for jelly, reserving remaining separately. Squeeze excess water from gelatine, add to hot cherry liquid and stir until dissolved. Stir in gin and lemon juice. Pour into a 3.5-litre trifle dish. Chill for 2 hours to set.

To make custard, place milk, thickened cream, vanilla, and mixed spice in a heavy-based pan over medium heat and, stirring occasionally, bring to just below boiling point. Remove from heat. In a bowl, whisk egg yolks, cornflour, and 110g sugar until thick and pale. Whisking continuously, slowly pour cream mixture into the egg mixture. Return mixture to the pan and whisk over medium-low heat for 3 minutes or until thickened. Transfer to a stand mixer and whisk on medium for 15 minutes or until cool. Cover and chill.

Line a baking tray with baking paper. Place hazelnuts, 75g sugar, and 1/3 cup (80ml) water in a saucepan over medium heat and cook, stirring continuously, for 8-10 minutes until sugar crystallises. Pour onto the tray, cool, then roughly chop.

Spread curd on one side of each slice of panettone and sandwich slices together curd-side in. Cut each into 6 squares.

Place reserved cherry liquid, extra gin, ¼ cup (60ml) cordial and remaining 1/3 cup (75g) caster sugar in a small saucepan, bring to the boil and cook for 5 minutes or until reduced by half. Place fresh cherries in a bowl, pour hot liquid on top and chill until completely cool.

Beat double cream and remaining cordial in a stand mixer to soft peaks.

To assemble, pour the chilled custard over jelly. Scatter panettone over and spoon cherries and syrup on top. Finish with elderflower cream, then scatter with frosted hazelnuts and elderflowers, if using.