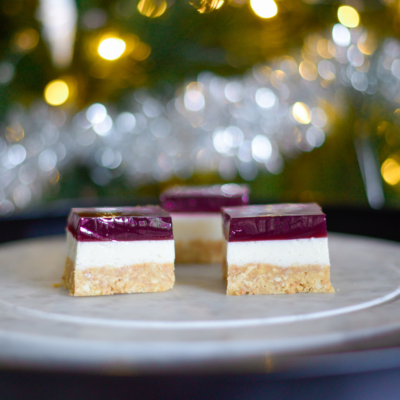 SHIRAZ GIN JELLY SLICE
Nothing says Aussie dessert like a Jelly Slice, except maybe one that has Barossa Shiraz Gin in it! This classic no-bake slice recipe takes the festivities one step further with a splash of our Shiraz Gin in the jelly layer. To top it off, it's super easy to make!
Ingredients
BISCUIT BASE

1

packet of Yo-Yo biscuits

170

g

of Butter

FILLING

3/4

cup

of Boiling Water

1

dessert spoon of Gelatine

Juice of 2 Lemons

1

tin of Condensed Milk

GIN JELLY

1

packet of Strawberry Jelly

1

cup

of Boiling water

1

heaped teaspoon of Gelatine

1/2

cup

of Barossa Shiraz Gin

1/4

cup

of Cold Water
Instructions
Firstly begin by crushing entire packet of Yo-Yo Biscuits and combining them in a bowl with melted butter.

Then press biscuit mix into a slice pan and place into the refrigerator to cool while making filling mix.

Dissolve gelatine in boiling water and mix all filling ingredients well together and pour into the slice tray on top of the biscuit base.

Once the filling layer is almost set begin making your gin jelly layer.

Add your packet of Strawberry Jelly and gelatine to a bowl and add the bowling water.

Allow jelly mix to cool until luke warm. Once your filling layer is set, pour on the jelly mix. Pour slowly onto a spoon to ensure your jelly doesn't melt the filling layer.

Once completely set, cut into pieces and serve.