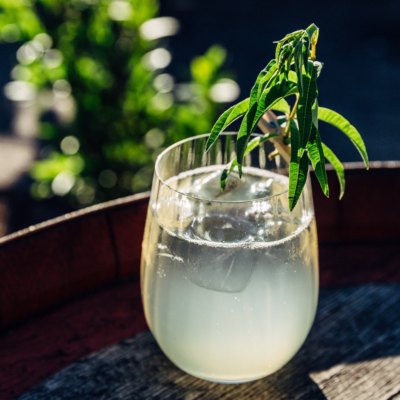 MAGGIE COLLINS
This is our Barossa slant on a cocktail classic, the Tom Collins.Using our classic Generations Gin, the Maggie Collins is wonderfully refreshing and dangerously drinkable, perfect for a few drinks in the afternoon! Technically we have taken the traditional Collins in the direction of a Gin Fizz, but let's not let technicalities get in the way of a good cocktail.
Ingredients
50

ml

Generations Gin

15

ml

Maggie Beer Verjuice

15

ml

Bickford's Lime

15

ml

Freshly Squeezed Lemon Juice

15

ml

Simple Sugar Syrup*

2

Dashes of Orange Bitters. Optional, but adds a depth of flavour

Ice

Fresh Mint Leaves
Instructions
Put 3-4 cubes of ice into a cocktail shaker.

Add a couple of dashes of Orange Bitters, followed by Generations Gin, Verjuice, Lime juice, Lemon juice and Sugar Syrup.

Do your best Bryan Brown/Tom Cruise impression and give the shaker a really good shake.

Part fill your glass with ice (Collins or High Ball glasses work well, but any glass will do)

Strain the contents of your shaker, except the ice, into your glass.

Add soda water to taste and garnish with the mint

Put your feet up and enjoy in the afternoon sun
Notes
*Simple Sugar Syrup
You can buy from a bottle shop but it is very simple to make yourself. Mix 1 cup (240ml) water with 1 cup (200g) white sugar. Combine in a medium saucepan, bring to the boil stirring until the sugar has dissolved. Decant and cool. Once bottled it will keep for at least a few weeks.